Bucket List: Honeymooning in Patagonia
Helen and Tim spend their first days as husband and wife hiking along Patagonia's glacier-blue waters and dramatic jagged peaks
An all-inclusive resort and lazy days spent by the pool just weren't going to cut it for Helen and Tim Schuckers. For their honeymoon, this Texas-based couple had their sights set on something far more grand—a 10-day vacation exploring Patagonia's fjords, glaciers and national parks.
Out of all the destinations in the world, what inspired you to travel to Patagonia? It seems like an unusual choice for a honeymoon, no?
Helen: We were inspired to travel to Patagonia after watching a beautifully shot documentary called "180° South." Also, we had a few friends travel to this remote South American region before, and after hearing their travel stories we knew Patagonia was the perfect fit for our honeymoon.
Tim: This was a dream destination for us because we wanted to experience a remote area that offered not only beautiful landscapes, but also amazing food and culture. Before the trip we heard how friendly the locals were, and how most of the food was farm-to-table. That really sealed the deal for us.
Where did you go in Patagonia, and what were some of the highlights along the way?
Tim: We visited two Patagonian countries. Our trip started in Chile through the cities of Santiago and then Puerto Natales, Chile. The second leg of our Patagonian trip was through Argentina into the cities of El Calafate, El Chalten and Buenos Aires. We backpacked through each of these cities by bus, taxi, inner city flights and by foot. Our trip was filled with hiking and trying the local cuisine.
Helen: One of the stand-out highlights for me was our hike on the Los Torres Trail in Torres Del Paine National Park in Chile's Patagonian region. It was our first hike as husband and wife. The base of Los Torres was breathtaking, filled with glacier-blue waters and perfect jagged peaks carved from years of wind erosion. The hike was a challenging seven to eight hours roundtrip, but the views were very rewarding at the end. It's a must-do if you are visiting Torres Del Paine National Park.
You guys have a particular interest in locally-sourced cuisine. Where and what did you eat during your South American adventure?
Tim: Some of our favorite local eateries were in Puerto Natales. One of our favorite restaurants on our trip through Patagonia was Cafe Kaiken in Puerto Natales. A husband and wife cook for up to 12 people per night in their four-table restaurant. Their gnocchi, fresh salmon, ceviche and chocolate brownie were to die for. We suggest making a reservation a day or two early as it's impossible to walk in and find a seat. Also, the pizza at Mesita Grande was perfect after a long day of travel. Their fire-roasted pizza, locally brewed Baguales Beer and fresh salad made from greens in the garden were on point. It's the best pizza you will have in the Southern Hemisphere.
Did you interact much with locals? What was that like?
Helen: The locals throughout the Patagonian regions of Chile and Argentina are warm and welcoming. Make sure to brush up on your Spanish because very minimal English is spoken in these parts. We also met many locals that moved from places like Europe and Australia. They visited once and never returned home. Not a tough sell with beautiful landscapes, nice people and amazing food.
What kind of accommodations did you choose and how did you narrow down the options?
Helen: Our accommodations ranged from hotels, cabins and hostels along the way. Since we were on our honeymoon, we wanted to splurge more than usual. Normally, we would've opted for backpacking and camping, but with the stress of wedding planning, we wanted to keep it simple.
During our time in El Chalten, Argentina, we stayed in the coziest cabins called Cabanas Aires Del Fitz, a great location with hiking trails in walking distance such as Laguna Torre and views of Monte Fitz Roy. These cabins shared a great story as the couple who owns and operate them left their corporate 9-to-5 lives in Buenos Aires to reconnect with nature and spend more time with family. Staying here made us feel like a part of the local culture.
What's your advice on cost-cutting when it comes to accommodations and choosing the right location?
Helen: Our advice on cost-cutting is to book in advance. We can't stress that enough as things book up quickly. We started booking our travel 10 to 12 months in advance. We found reviews on our accommodations through TripAdvisor, and booked most of our travel on booking.com. We saved 30 to 50 percent by booking early. With booking.com, you don't usually pay until you arrive for your stay, so it also helped us by not having to pay for everything upfront.
Tim: One of our favorite accommodations was at Weskar Lodge during our time in the Chilean city of Puerto Natales. The views from the hotel room of the fjords were breathtaking. We loved the farm-to-table food selections, and the complimentary continental breakfasts were fantastic. We chose to stay at the Weskar Lodge in Puerto Natales for a couple nights because it was within a two-hour drive in our rental car to Torres Del Paines National Park. Staying in or near the national park was very expensive, so we cut cost by renting a car.
What advice do you have for first-time travelers to Patagonia?
Helen: A trip to Patagonia takes quite a bit of planning and can be pretty costly, so our advice to first-time travelers is to plan at least 10 to 12 months in advance. The best time to travel is to travel early November as the peak seasons tend to range from mid-November to March. The weather is pretty temperamental and can be pretty chilly, windy and rainy outside of that travel window. Also, if you are traveling to Argentina from Chile by bus, make sure you purchase your reciprocity travel fee online and print a copy of it in advance. You will need to have it before you enter the country. Best tip we got from anyone!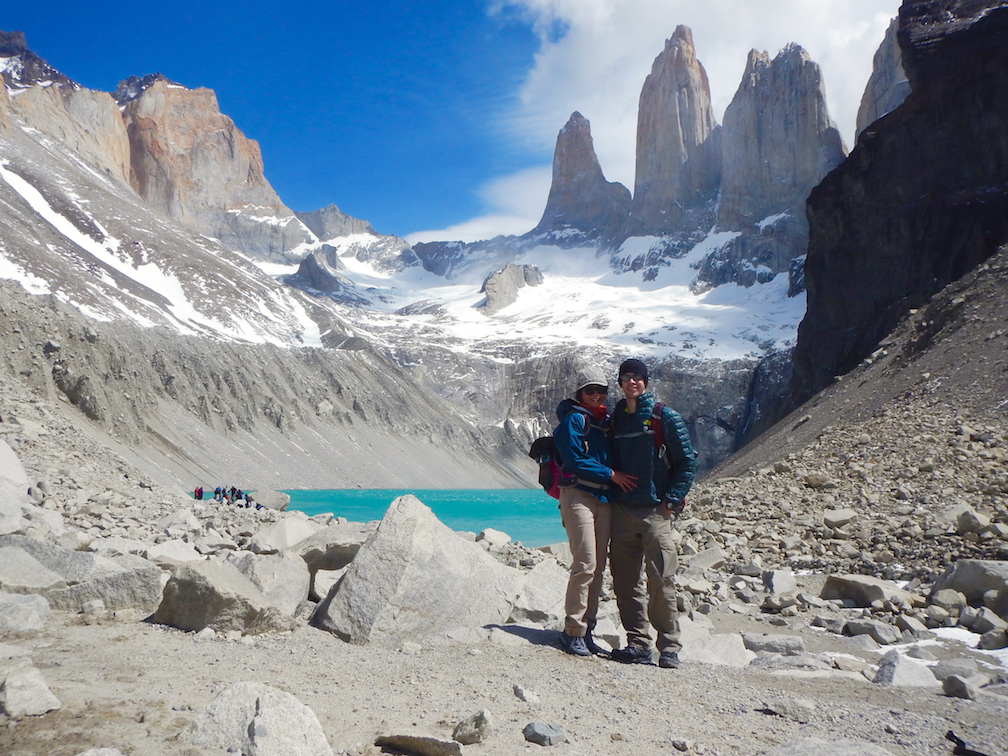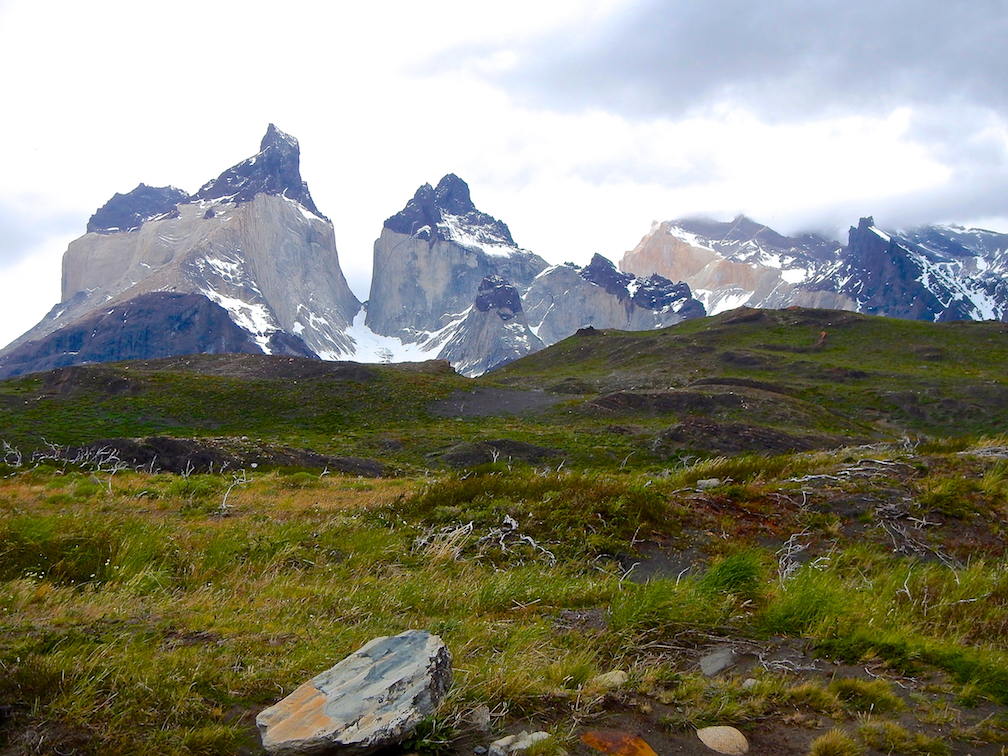 What are some things you'd do differently if you could do it all over again?
Tim: If we could do things differently they would include:
Spending more than 10 days in Patagonia. There is so much to see including the newly developed Parque Patagonia
Spending more time in El Chalten, Argentina. The little mountain town was so peaceful and lots of cool hikes around the area. It was overcast for the two days we were there and hardly got to see the iconic Monte Fitz Roy
While we saw the Perito Moreno Glaciers in Los Glaciares National Park, we didn't get a chance to hike them. Book a glacier trekking expedition!
What are some things that everyone MUST do, in your opinion?
Helen: Everyone must visit Torres Del Paines National Park and hike Las Torres. The National park has some of the most amazing views we have ever experienced.
A trip like this is expensive. How did you budget for the trip? How long did it take you to save up?
Helen: It was one of the costliest trips we have ever taken. Those memories we made were worth every penny though! We started planning and booking flights 10 to 11 months in advance. We were lucky to have some of our honeymoon cost covered as part of our wedding budget, but saved up for six months to cover airfare costs which was the bulk of our trip cost (approximately $3,000 to $4,000 roundtrip from Dallas, including a couple inner-country flights in Chile and Argentina).
Tim: Accommodations are pretty affordable. Look to budget for approximately $50 to $100 per night for accommodations.
What advice do you have for maximizing your time and money while on vacation?
Helen: Maximize time and money by pre-booking flights, accommodations and bus passes, and planning an itinerary of your travel route. For 10 days of travel, I would pick two to the places to see so you don't feel rushed.
For more of Helen and Tim's adventures, follow them on Instagram or Snapchat (AnchorAndPine). They love skiing and snowboarding in the Western U.S. and taking epic road trips to places like Bryce Canyon National Park in Utah and the Great Sand Dunes National Park and Preserve in Colorado. They also plan to launch an outdoor wellness business next year, so keep this power couple on your radar.