What is a 'Babymoan' and Why Should You Take One?
Forget the babymoon—the more thrilling 'babymoan' let's future moms party like Daft Punk one more time
For some, lounging on the beaches of Tulum, Mexico, with a strawberry smoothie in one hand and your partner's hand in the other might be the best possible way to ring in parenthood—and all the responsibilities that come with it. The Babymoon—a vacation couples take in the months before childbirth—has risen in popularity over the past decade. This trip for parents-to-be is an opportunity to unwind and reconnect before the big day. As my husband and I discussed becoming parents and planning out our pregnancy, however, I realized that a babymoon just wasn't going to cut it for me. What I needed was something far more celebratory, with friends, dancing, carefree late nights and drinking (while we still could). What I needed was a "babymoan."
A babymoan is a last hurrah before planning a family. It's a destination party, often enjoyed with your closest friends, and the last chance a couple has to let their hair down before giving in to the pressures of adulting. Think of all the things you love but won't be able to do as a parent or while pregnant (sleeping in, eating sushi, raging until dawn) and planning a blissful weekend around them.
The babymoan gets its name because you're bemoaning the fact that you'll be leaving behind an independent lifestyle and, basically, that it's time to grow the fuck up.
One of the things I'm going to miss the most about life before the baby is the ability to go to music festivals, near and far. So for my babymoan, I herded a group of friends together to attend the 10-year-anniversary of HARD Summer in San Bernardino, Calif., and stay the weekend at the historic, four-diamond Mission Inn Hotel & Spa. I get it though—what I look for in a dream party weekend (EDM, luxury hotels, Campari cocktails, tacos, pool times, illegal substances) is not what most people are going to want on their babymoan. Keep in mind that babymoan is all about individuality and freedom to do whatever the hell you want. So you do you.
Preparation for My Babymoan
Apart from booking rooms, arranging transportation and purchasing VIP passes to the festival, there were other things to consider in the planning process. I wanted this weekend getaway to be original and a bit silly, which meant diving head first into ridiculousness. Let me explain.
My stylist Hair by Ladonia informed me that once The Hubs and I get preggers, I won't be able to bleach my hair blonde or dye my hair funky colors. (Bummer!) So, she suggested we do something wild to my hair in order to commemorate my babymoan. We decided on mermaid hair, dyed with pastel pink, lavender, baby blue, turquoise and seafoam green.
"You did something different with your hair," said a server at the Thai restaurant right by my office. "It looks like unicorn ice cream."
I'll take that as a compliment.
Perhaps my most indulgent, unnecessary purchase to date (don't worry I won't be having many more of those as a parent), I commissioned a flamingo- and pineapple-bedazzled electric scooter from an artist I met at Camp No Counselors. His company, Good Vibe Gliders, specializes in tricked-out festival scooters, and the artist spent approximately 100 hours crafting the tropical scooter of my dreams in gems and LED lights.
The Best Weekend Everrrrrr
We started off our days at The Mission Inn's pool, getting a little sun and sipping on cocktails. My husband and I were upgraded to a spacious suite on the fourth floor, with tall ceilings and a vanity fireplace, which was perfect for pre-gaming. For convenience and in order to cut down on costs, we brought our own beer, booze, champagne and snacks for the room. From the room's fairly powerful speaker/alarm clock, we listened to the artists who were on the schedule to figure out which sets we would catch and which ones we were willing to miss.
This year's festival featured a solid mix of hip hop and EDM, from Rae Sremmurd, Migos and Ty Dolla $ign to DJ Snake, Zeds Dead and Justice. My favorite performances were sets by What So Not, Tchami, Dog Blood, A-Trak and Snoop Dogg, who performed the entire album of "Doggystyle." I also met and hung out with Egyptian Lover's daughter, Stephanie, while he spun 1980's breaks on vinyl. She overheard me talking about Egyptian Lover's role in the electro music scene and the fact that he was scratching actual records (a rarity these days for sure).
Our VIP bracelets definitely paid off, allowing us to get super close to the HARD Stage, so we could chill out in the VIP bar area until the very last minute and still get an awesome view. The HARDER Stage VIP area had the coolest amenity of all, a pool that overlooked both the stage and the crowd. I gotta admit it was strange seeing people (including our friend Josh) swim and dance in a pool that was right smack dab in the middle of the festival. It was, of course, a singular experience, which is exactly what we wanted throughout the weekend.
Another highlight of my babymoan was visiting Tio's Tacos in Downtown Riverside. Not only were the aguas frescas and chile relleno burrito on point, but the art alone is reason enough to pay it a visit. I had the honor of meeting the owner and artist Martin Sanchez while wandering around his wonderland of outsider art. Using recycled materials such as bottles, bikes, oyster shells, bottle caps and car parts, he's made a creepy little world worthy of exploration.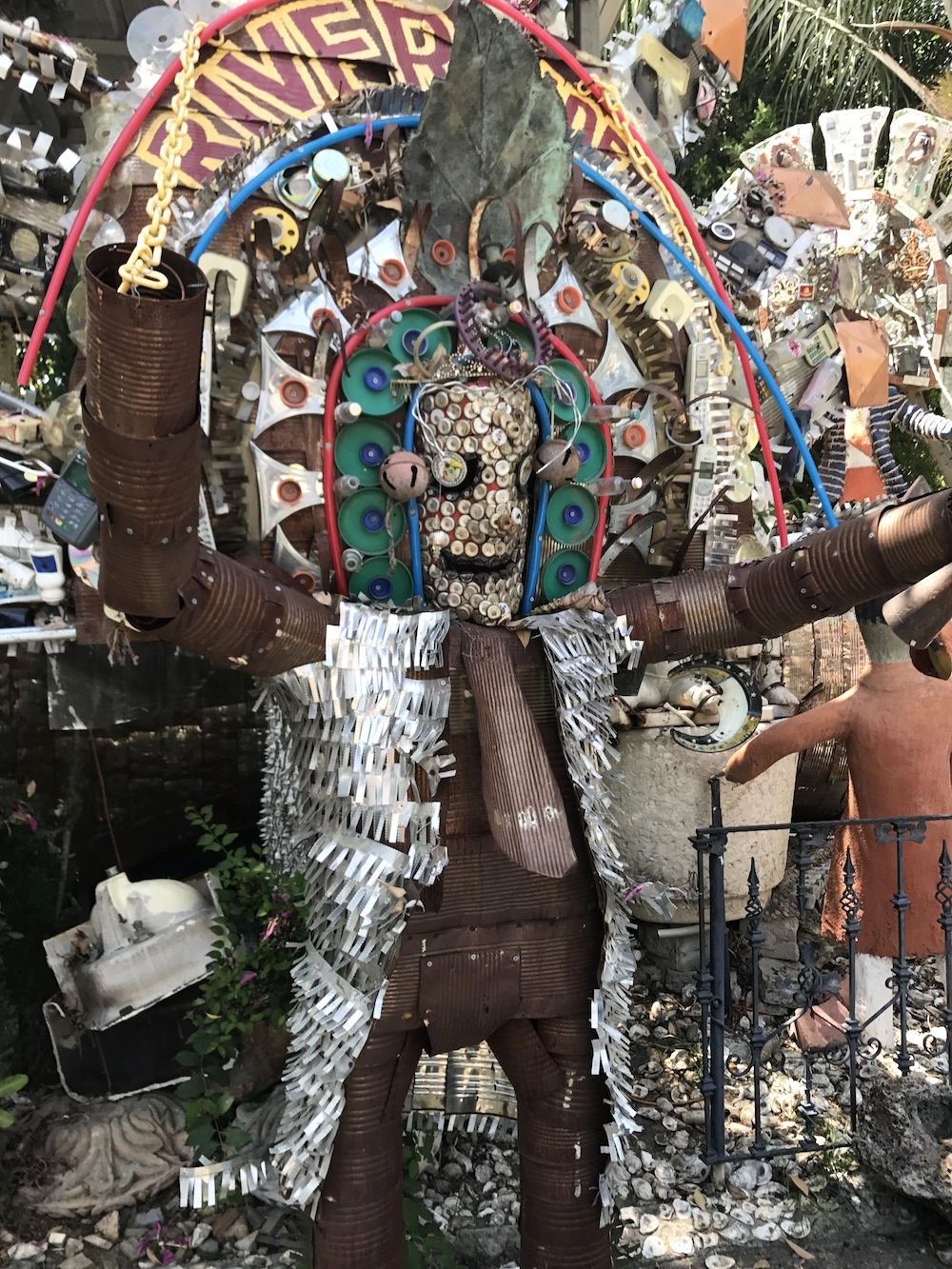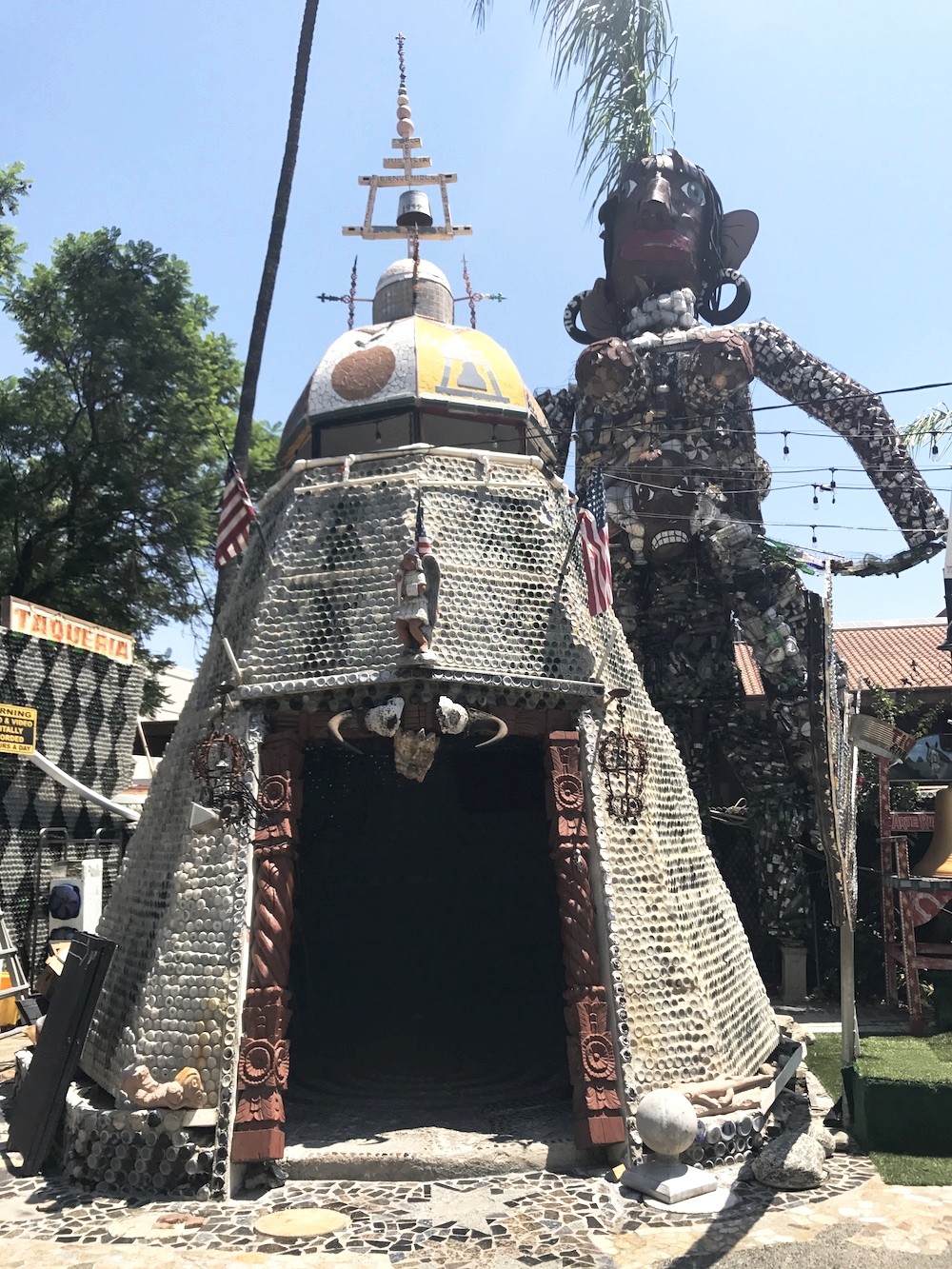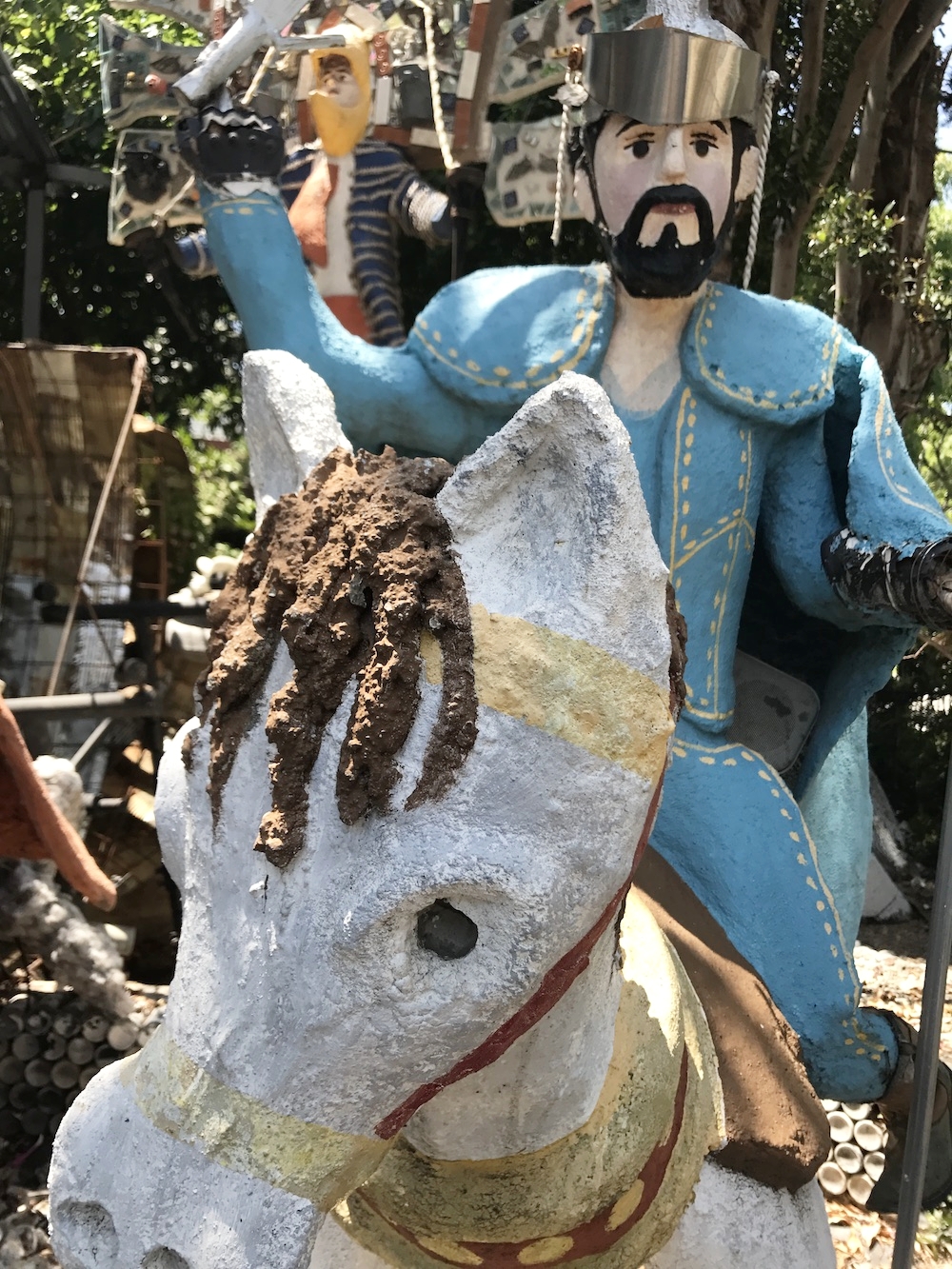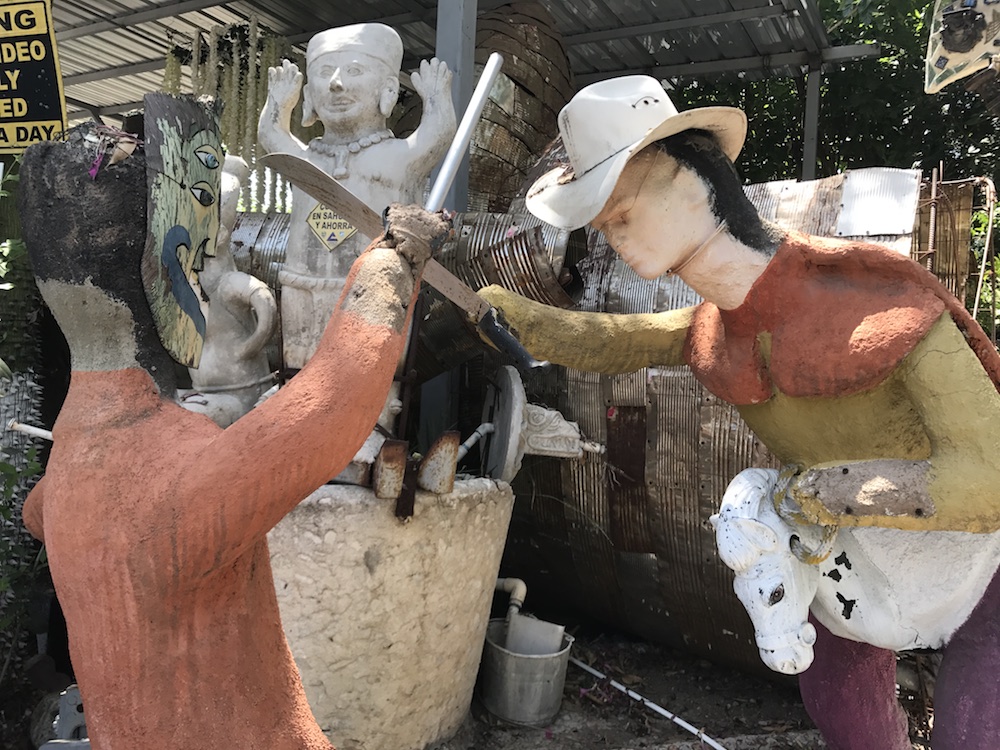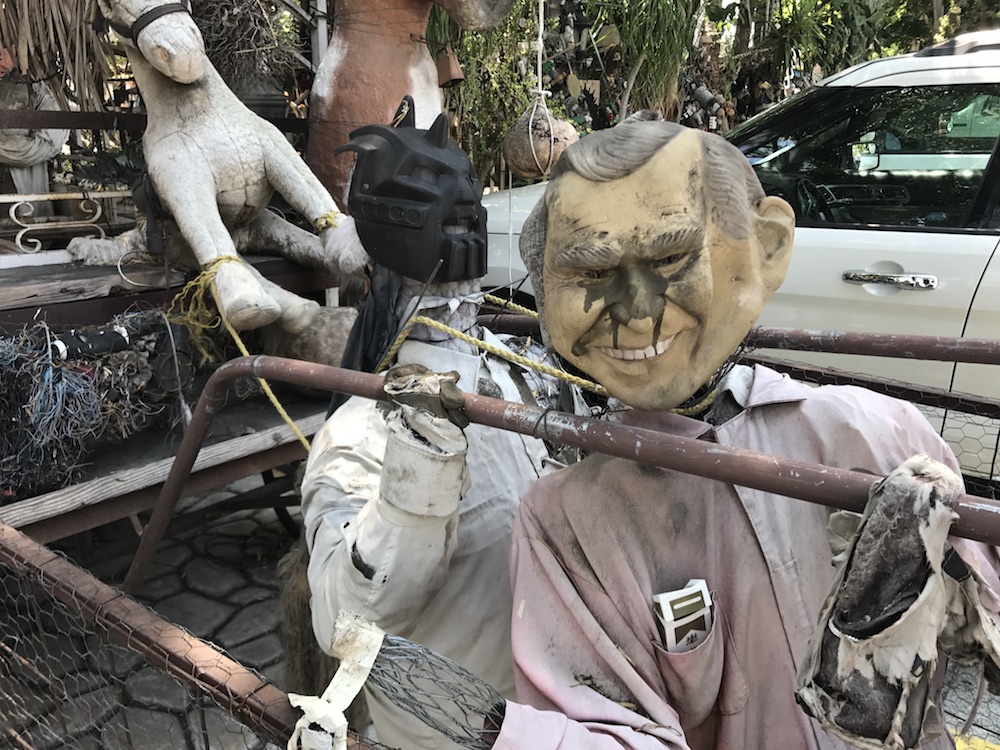 We had a lot more bacchanalian adventures during my babymoan weekend, but I'm going to keep some of the stories to myself. You never know—my future child might read my blog one day, and I don't want her to get any ideas. 🙊